Trust Deed investing with Ignite Funding provides our clients with a number of benefits that they cannot achieve with their typical Wall Street assets simply due to the nature of those investments. Trust Deed investments generate a passive, fixed income, enable capital preservation due to a collateralized tangible asset on every investment, and adds diversification within their investment portfolio.
However, you are not reaping the full benefit of Trust Deeds without implementing the below ingredients into your investment strategy.
Secret Ingredient #1: Reinvestment is Essential
Trust Deed investments are inherently short-term. There are no prepayment penalties, so borrowers can pay-off the loan well before the final maturity date, which could be less than a year in duration. If you do not reinvest the funds that were paid-off as soon as possible, then you will NOT earn the full double-digit annualized return. When you wait to reinvest your funds, this is often referred to as the dreaded interest downtime. Prudent investors want to avoid interest downtime in order to:
Maintain a steady flow of fixed income.
Maintain the growth of retirement or cash savings.
Maintain a diversified and balanced portfolio.
Achieve the full earning potential of their Trust Deed investments.
Tips to Reinvest More Efficiently:
Add loan maturity dates to your calendar - Even with the chance that the loan will pay-off early or be extended, this will help keep these investments on your radar.
Reinvest both the principal that was paid-off and the interest that was paid-out during your previous investment(s) to reap the benefits of compounding interest.
Make sure you are receiving pay-off notification emails from Ignite Funding.
Call your Investment Representative ASAP - You are reinvesting along with potentially hundreds of other investors, so new loans will fill-up quickly.
Sign-up for text messages so you always are one of the first to know what investments are currently available. Text the word "Investments" to 844-552-7022.
Complete your investment paperwork and transfer your funds as quickly and securely as possible.
Secret Ingredient #2: Diversify 5 Ways
At Ignite Funding, we not only champion diversification across your entire investment portfolio, but we also encourage clients to diversify within their real estate portfolio. This strategy helps to mitigate risk by reducing a portfolio's exposure to potential defaults and/or foreclosure. Ignite Funding constantly monitors real estate trends so investors can optimize their portfolios with diversification in 5 different ways. Clients can diversify by:
Region: Since 2011, clients have been able to invest in projects in over 20 states.
Borrower: Ignite Funding works with various bankable borrowers with a long history in the region and reliable track record.
Phases of Real Estate: Clients have the opportunity to invest in land acquisition, horizontal development, vertical construction, and rehabilitation projects.

Type of Projects

: Ignite Funding lends on both commercial and residential projects.

Type of Assets

: Clients have the opportunity to be collateralized by a myriad of different assets (dependent on the project they invest in), such as townhome communities, lifestyle centers, senior healthcare facilities, luxury homes, apartment conversions, industrial centers, and much more.
Ignite Funding's low investment minimum makes the execution of this strategy easy to execute. For example, if you have $30,000 to invest you could put $10,000 on 3 different loans or $15,000 on two loans.
Secret Ingredient #3: Invest Funds from Different Sources
At Ignite Funding, you are not limited to investing solely with cash. Many of our clients implement Trust Deeds for various strategies. Below are few questions that can help you see where else you could benefit from Trust Deeds:
Are you saving for retirement? Trust Deed investments are a great way to add diversification and capital preservation to your retirement savings strategy without requiring a large sum of available qualified funds to invest. If you are adamant about following the reinvestment tips above and compounding interest, then investing in Trust Deeds with a Self-Directed IRA account is a no-brainer. To learn more about the benefits and the process, Click Here to read our blog "Trust Deeds: The Fuel Your Retirement Needs and Deserves".
Are you trying to accumulate wealth to leave a legacy for your loved ones? Whether you are looking for a place to start or continue building wealth to leave the next generation(s), Trust Deeds can complement any Trust account portfolio.
Do you own your own business? As a savvy business owner, you are always looking for ways to help build your firms net worth, right? One way would be to put some of your company's surplus cash to work, earning way more than it is sitting in a bank account without any extra effort on your part. To learn more about why a business should invest in Trust Deeds, Click Here to read 4 reasons in our blog.
Are you saving for a minor's future endeavors? Whether you are the parent, grandparent, aunt/uncle, godparents, or a really close family friend, you can add Trust Deeds to your savings strategy for a child's future endeavors (i.e., higher education, small business start-up, trade school, etc.) with a UTMA account. Unlike other custodial accounts, a UTMA account gives you the ability to direct investments into alternative assets, like real estate. Other advantages include annual contributions of up to $15,000 into the account that are exempt from paying a gift tax, income earned is taxed at the rate of the minor being gifted the funds, and more flexibility on what the money can be spent on for the benefit of the minor.
Here is a simple example of the saving potential that can be achieved by implementing the reinvestment strategy and compounding interest we mentioned in the first Secret Ingredient. Let's say that you invest $10,000 in Trust Deeds from a UTMA account from the time the child was born, and only reinvested that principal amount plus the average annualized interest of 10% until the minor is of age.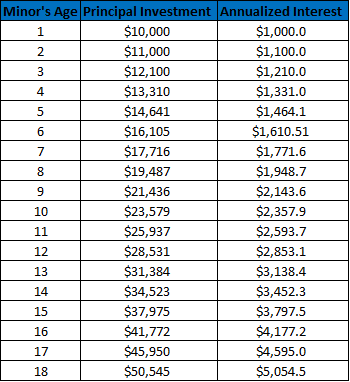 As you can see, the potential savings power of Trust Deed investments can be monumental.
If you need assistance or want to learn more about applying these Secret Ingredients to your Trust Deed investment strategy, contact your Investment Representative today! If you are not a current client, you can Click Here to schedule a 15 minute no obligation consultation to learn more about how to add the benefits of Trust Deeds to your portfolio.