---
"They called her what?" The buzz started in the office of the President of Ignite Funding, quickly spreading to the marketing department and around the building, and even to the internet, with the American Association of Private Lending (AAPL) posting the phrase "Revenue Whore". So we wanted to set the record straight and share the whole story of how Carrie Cook got the title "Revenue Whore".
---
Carrie Cook attended a roundtable presented by AAPL to discuss Capital Sources. During the discussion, one of the other participants asked if she deals with a lot of brokers. Ms. Cook replied that Ignite Funding is a full-service provider; originating, underwriting, and servicing all of our own loans. She explained that each time you parcel out one of these responsibilities, not only do you lose a little control but you also give away part of your revenue to that service provider. She doesn't like to give anything away, she wants to retain all the revenue. That's when she uttered those infamous words, " Some like to call me a revenue whore."
It was said in a joking, tongue-in-cheek manner, but in reality, Ms. Cook doesn't mind the title because it exemplifies the attention to detail that is important to her and shows her focus on capturing every dollar to ensure that Ignite Funding is profitable and works hard to provide our clients with high-quality investments with good returns.
So, if you see Ms. Cook sporting a T-Shirt with the words "Revenue Whore" scrawled across it, you'll know the real story. She's proud of what she, the team at Ignite Funding, and their investors have been able to accomplish and she's not afraid to show it.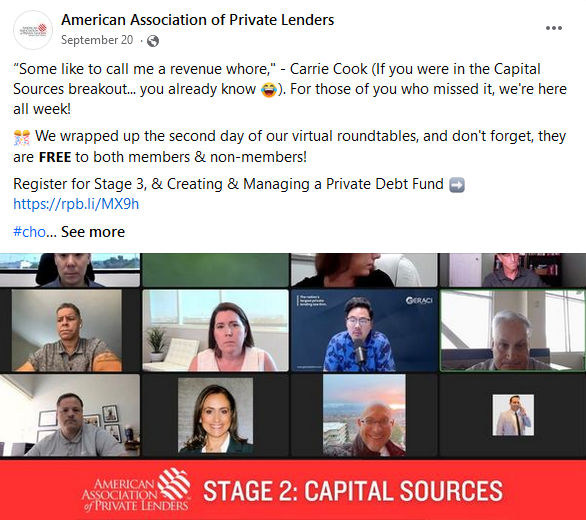 .
Thanks for the shout-out AAPL! The screenshot above shows the AAPL Roundtable and Ms. Cook's quote from the event.
If you're interested in becoming a "Revenue Whore" too and adding double-digit returns to your investment portfolio, open an account with Ignite Funding today! Click here to get started.